[Sponsored by TREAT]
この英文記事は、 【トリート特別連載】ディア エンパワード ブライズ 第3回 世界を飛び回るドリームドレス選びのスペシャリスト ジュリー・サバティーノ氏 xトリート侍女子 対談の特別英訳版です。
---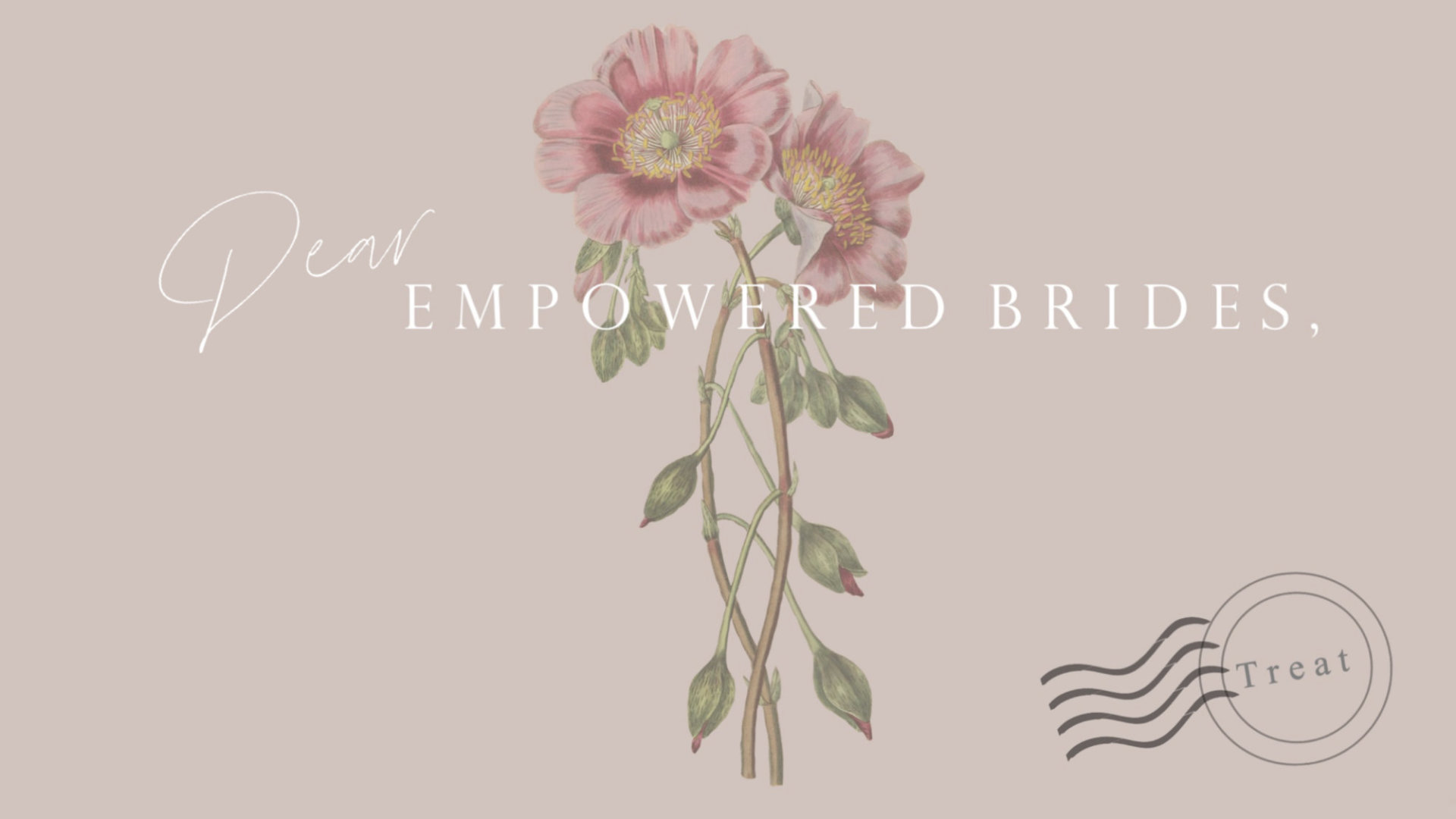 An "empowered woman," as defined by TREAT, is an autonomous woman who acts according to her own beliefs without being bound by common sense, customs, or the evaluations of others.
---
For the third installment of this series, we welcome Mrs. Julie Sabatino, a leading bridal stylist based in New York who is active internationally, for a long conversation. This time, the three "Samurai Girls of TREAT" asked Sabatino questions from various perspectives, not only as a dress stylist but also as a businesswoman, a wife and a mom. Sabatino is an empowered woman, and we are sure you will be empowered as well when you read this special talk!
【Guest Speaker】
Julie Sabatino, Founder of The Stylish Bride
【Speaker】
Mao Miwa, Tokyo Area Manager, TREAT Co.
Miyu Onishi, Dress Coordinator for Kobe Area, Expert Course, TREAT Co.
Mariko Sakakura, Manager, Nagoya Branch, TREAT Co.
【Observer】
Tomoko Iijima, PRESS, TREAT Co.
【Moderator / Interpreter】
Ayuka Matsumoto, Editor at Large, Martha Stewart Weddings Japan Digital
.
A leading bridal stylist active on the world stage
.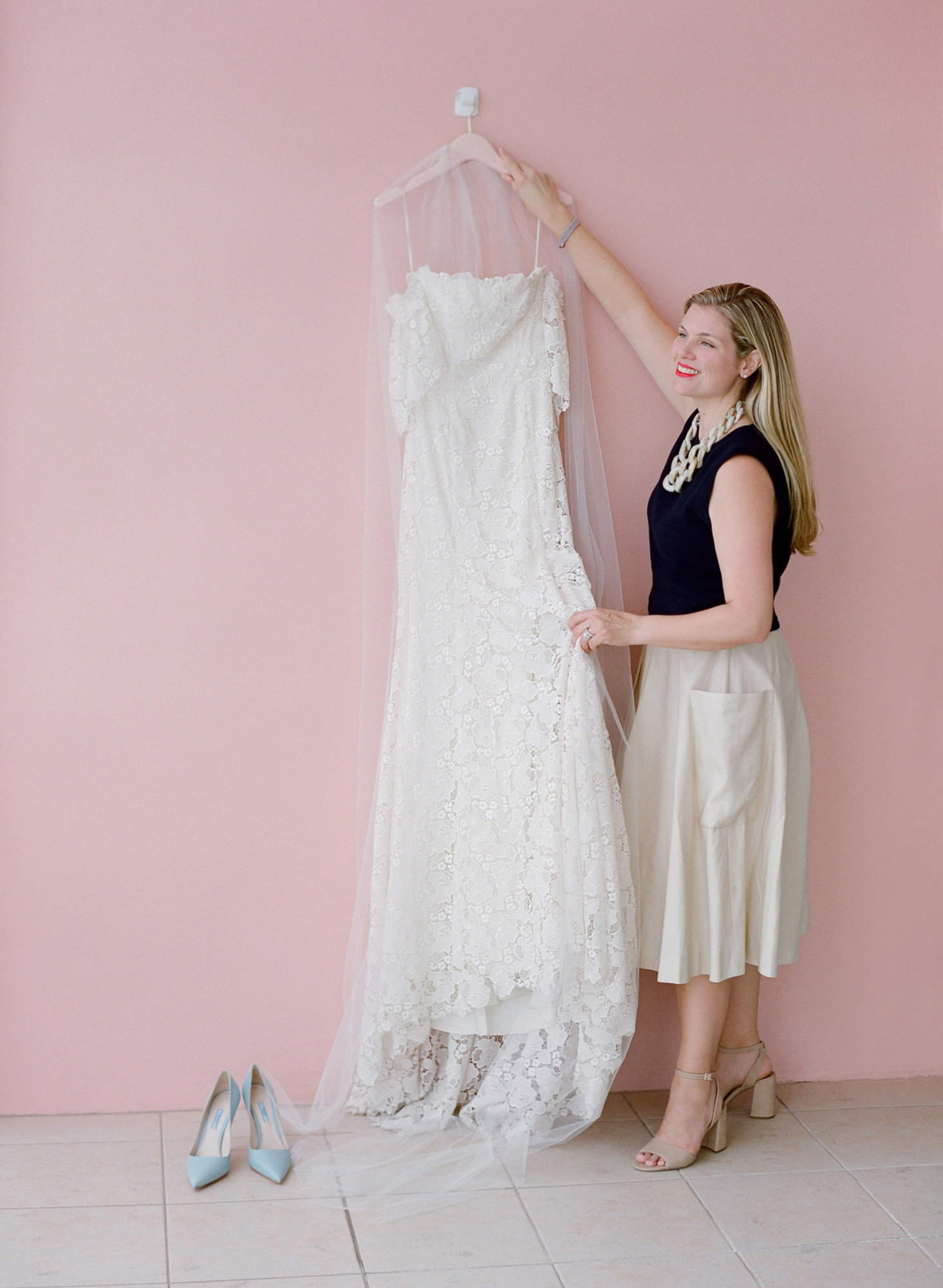 .
A woman who guides each bride to the 'dream dress'.
That's Julie Sabatino. Sabatino is the founder of The Stylish Bride, a New York-based bridal stylist that provides personal shopping and total styling of wedding related fashion for brides all over the world.
.
Sabatino : I'm very happy to have this opportunity to talk with you at TREAT. I've heard that renting wedding dresses is the mainstream in Japan, and I'm personally very interested in that. Some companies in the U.S. have tried to start wedding dress rental businesses, but none of them have succeeded yet. Now that sustainability is being advocated, I think the wedding dress culture in Europe and the United States will also change.
.
Unlike in Japan, brides in Europe and the United States generally purchase their wedding dresses. However, even though the formality is different, the thoughts of the dress coordinators and stylists who help the bride find the dress of her dreams, transcend national borders. The samurai girls of TREAT navigate this ZOOM long conversation filled with sympathy and resonance.
.
So I decided to become her
.
.
Miwa: I changed job to TREAT in 2011. I've gained experience as a dress coordinator since my previous job, and now I am the Tokyo Area Manager, as well as participating in internal projects related to management other than dresses. Please tell us how you started working as a bridal stylist.
Sabatino: Let me start telling you about my own wedding story. In 2000, it was very different from now, there was no social media, only a few designers had proper websites, and it was very difficult to find the wedding dress I wanted. When it came to choosing a dress, it was nothing like the "dream shopping experience" I had envisioned like in the movies. At the time, I was working on Wall Street, and I was so busy that I didn't even have time to choose a wedding dress. In addition, I'm a curvy woman, so I had a hard time finding dresses that worked for my shape. So, I looked for someone who could help me to choose a wedding dress. But there was no one like that at the time. So, I thought, "Well, I'll become her." After I got married, I left the financial industry to attend a fashion school, and after graduation, I started working at Amsale. There, I realized that every bride needs someone to help her choose a dress, and in 2003, I founded The Stylish Bride and started my current job as a bridal stylist.
.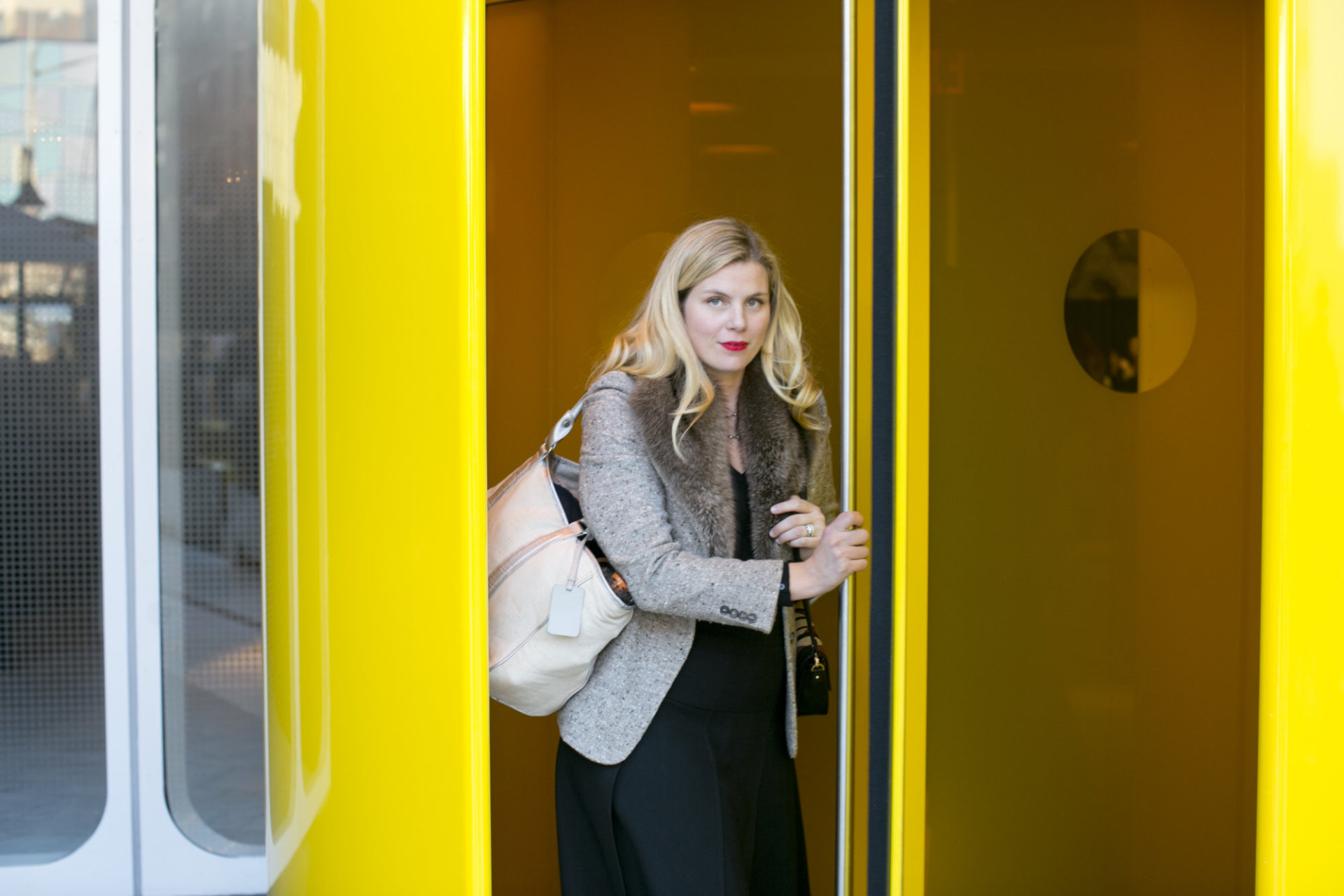 .
Sabatino was inspired to become a bridal stylist by the idea that "If I had trouble, there must be others who are having trouble as well." This thought led Sabatino to become a bridal stylist. By the way, the dress she chose for her own wedding was an Amsale dress.
.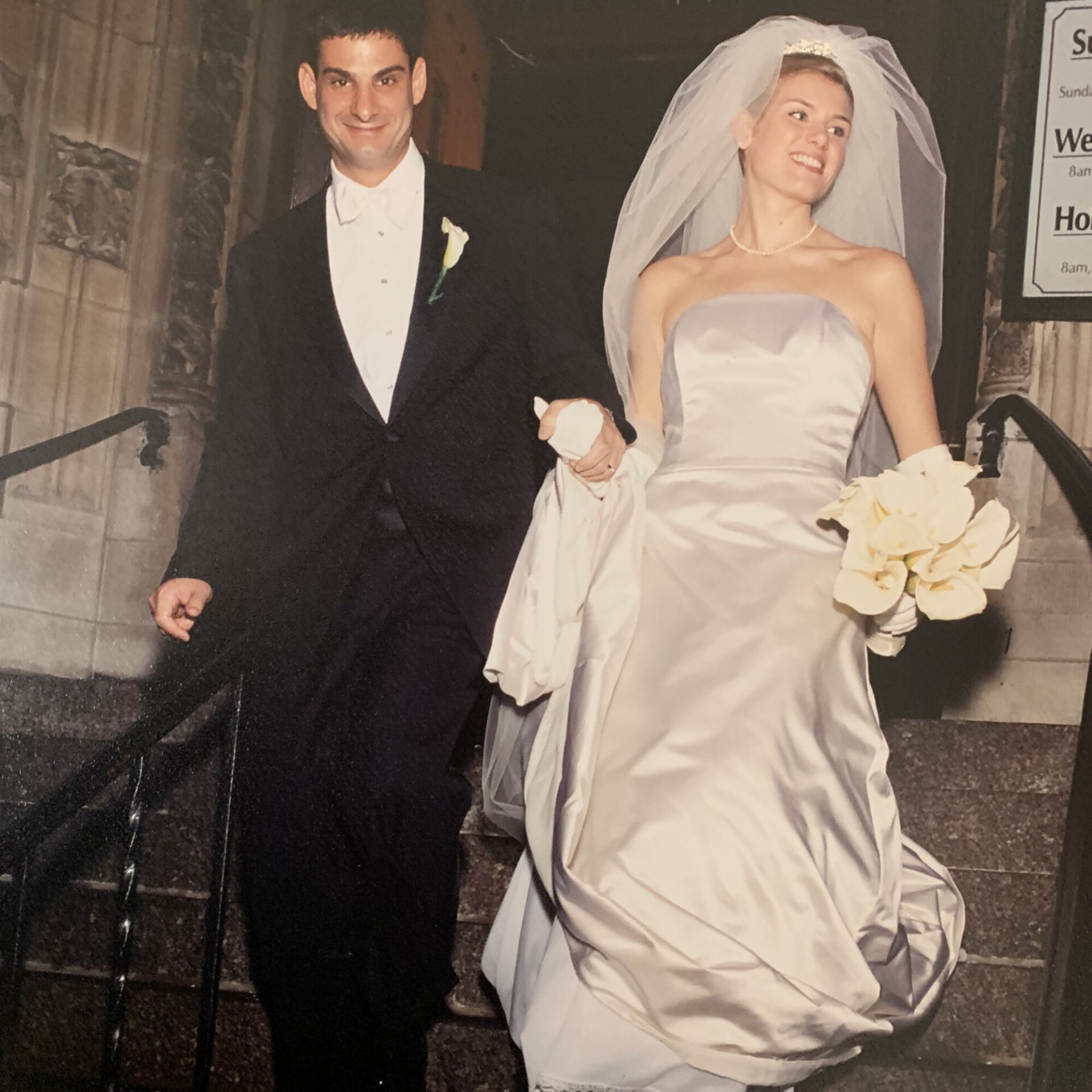 .
Sabatino: It was a dress made of duchess satin with a very long train. It was a simple dress with no decoration, and I still love it.
All: Wow, beautiful!
.
Trusting relationships that can be supported because they are supported
.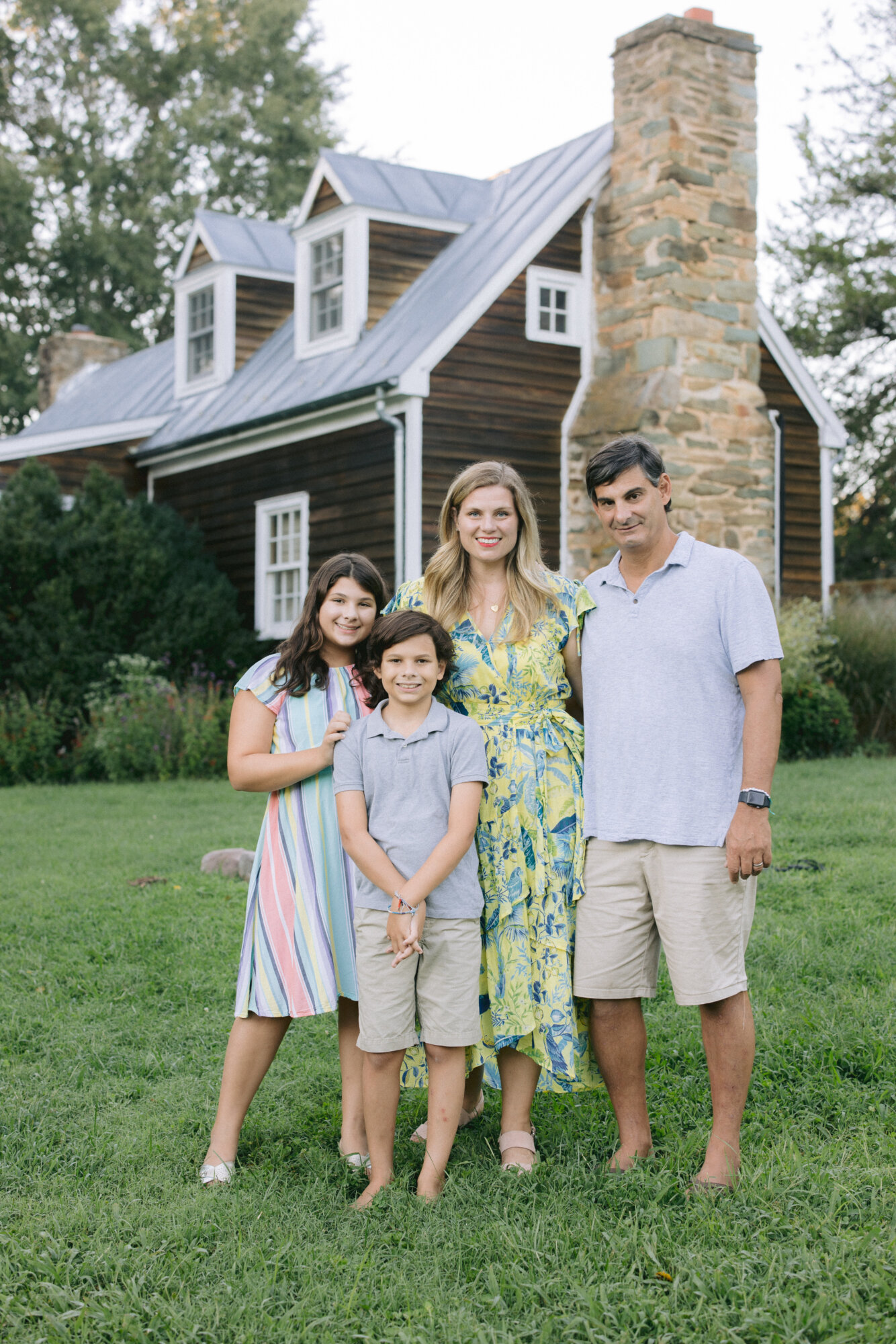 .
Miwa: I heard that you have two children. Is there anything that you keep in mind to maintain a balance between being a businesswoman, a mother and a wife?
Sabatino: That's a very difficult question, because for at least 10 years before COVID-19, I've been working from morning to night, every single day, and I had no time for my children. The good thing about the COVID-19 is that I have more time with my family since I don't have to travel or go out from home. Even after COVID-19 is over, I would like to prioritize spending time with my family. There are two main areas of my business. The first is as a stylist, where I handle personal shopping and total styling for all of the events surrounding the wedding. I do this piece on my own, both in-person and virtually. The second part of my business is our on-site dressing service, where we are there on the wedding day to take care of all fashion-related matters such as steam the dress, shoes and accessories. We have teams of stylists in seven cities in the US and UK. In the future, I would like to have an assistant in each city to support me in my personal shopping and styling work.
.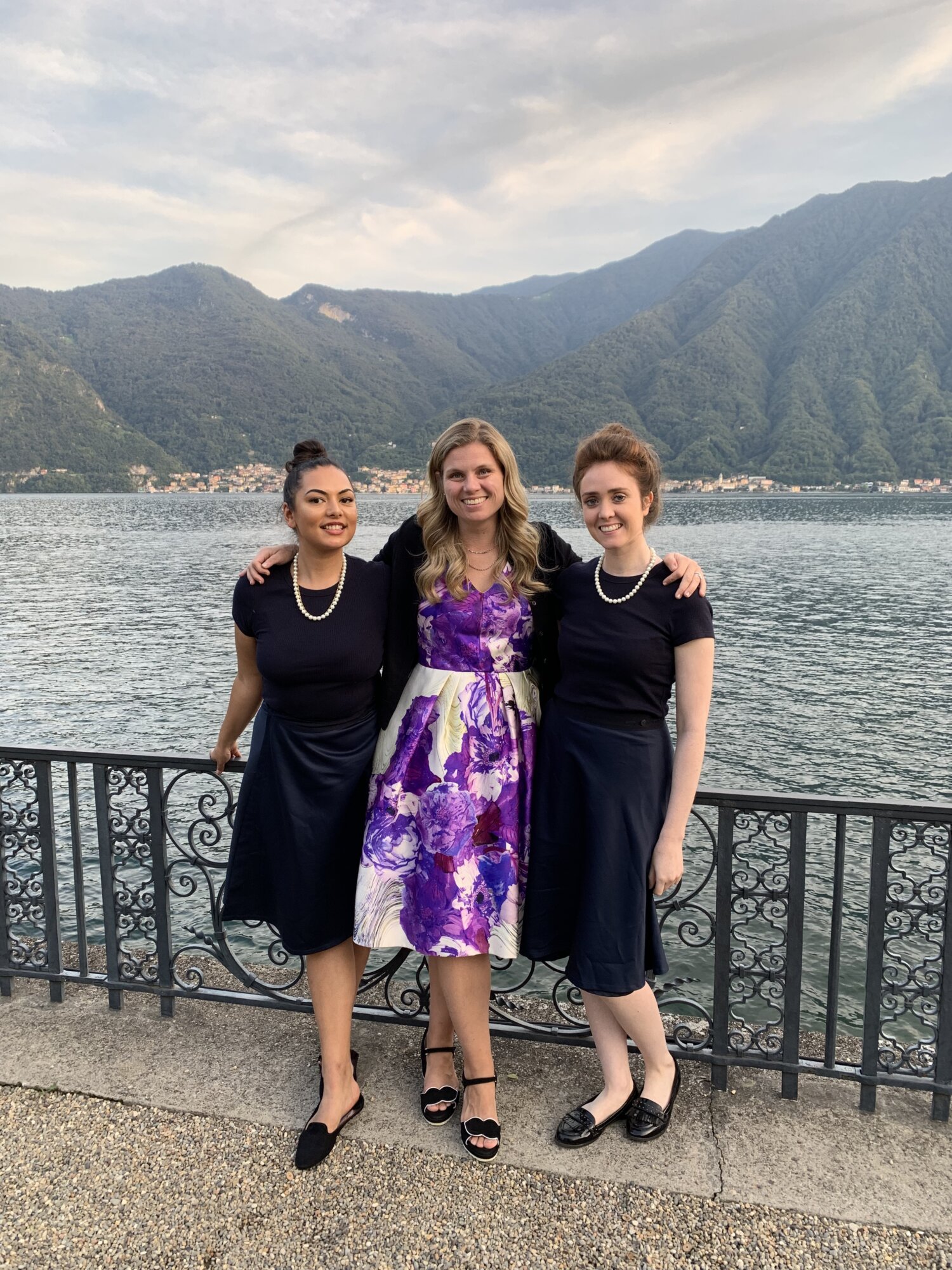 .
Iijima: You've had a really busy life so far, how do you build the relationship with your family and staff?
Sabatino: (She ponders) Well... I have a very wonderful husband. (All sigh in admiration) He is amazingly supportive of everything. He covers everything that I can't, and he is the one who takes meticulous care of me all around. I think I am very lucky! (All laugh) There are so many things I couldn't have done without him, and I can't thank him enough. I have tried to prioritize time with my family in the past, but my customers are brides. I can't keep them waiting for their once-in-a-lifetime weddings, and if they ask for something, I have to respond immediately. With his help and support, I have been able to build a relationship of trust with the bride, the staff, and my family.
.
She says that she is able to support brides who need help because she is supported and helped by her partner. Sabatino, who is always grateful to those who help her, reveals the new marital trust of today's empowered woman: "support and be supported."
.
Problem solving is like a puzzle
.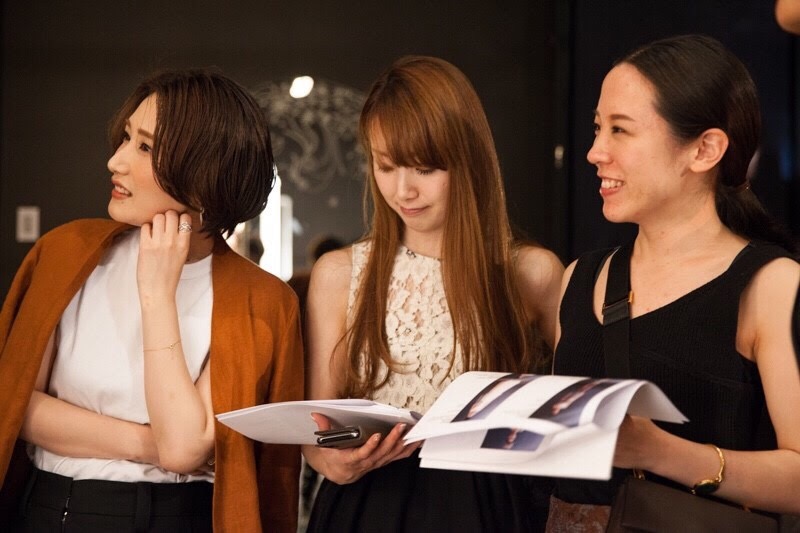 .
Sakakura: I joined TREAT mid-career in 2014, and I'm currently growing the team as the manager of the Nagoya store. Could you let us know your motivation in your work?
Sabatino: I really love my job because I can support brides, so the job itself is my motivation. The moment the bride is filled with happiness is the moment I am so happy. It's very exciting to talk with the brides and I learn a lot from them, too. I always feel strongly that I don't want my brides to suffer the same way I suffered when I had to choose my own dress. Another motivation is to solve problems. Whenever a problem arises, I love to come up with a unique solution. (All laugh) Not only at work, but also at home, when a problem arises, I think excitedly, "What would be an interesting solution? (All laugh) When it comes to business, I not only like to solve problems, but I also like to think about how to grow, change, and expand the business, and that is what motivates me.
All: Solving problem is your motivation? Oh my god! That's wonderful!
Sabatino: For me, solving problem is like a puzzle. When I was working on Wall Street, I was a recruiter at an investment bank. I've had some great training in "what is a professional," "ethics," and "how to manage difficult personalities. I think that is very great experience to me.
Iijima: When I saw your Instagram and website, I thought that you would be working with your tastes and feelings, but I found out that you are very logical. The three members from TREAT this time are also logical and are called "samurai girls," representing TREAT. I felt that they have something in common with you.
Sabatino: Samurai girls! (laughs) I love that!
.
Guide the bride to her "dream dress of destiny"
.
Onishi: I work as a dress coordinator in the Kobe area, providing support to brides on a daily basis. I choose a dress that suits each bride based on her sense of style sometimes, but how do you choose the dress that is destined for the bride?
.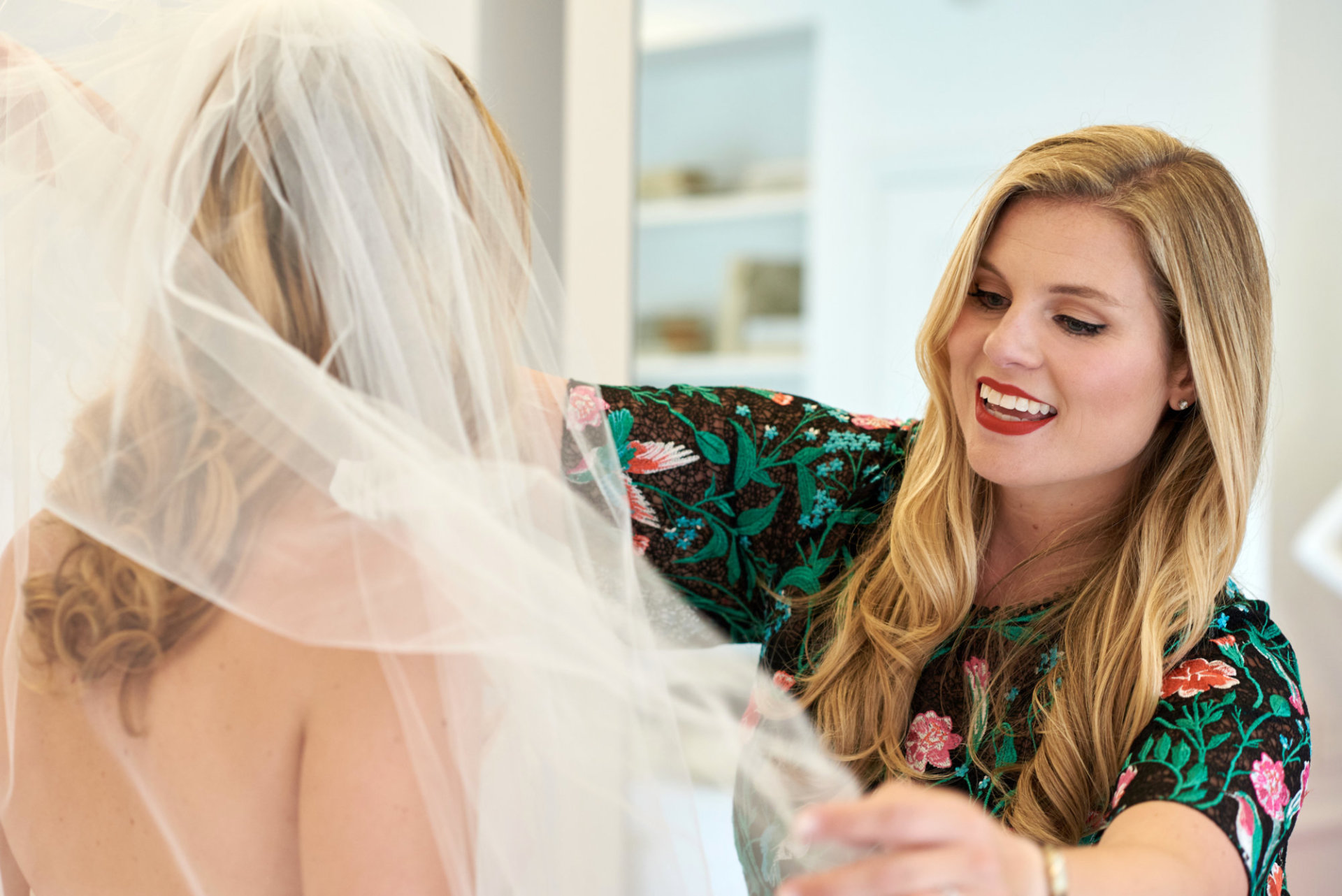 .
Sabatino: The first step is to know the bride's personality and background, and what she is looking for. In a typical dress salon in the U.S., the first consultation takes about only five minutes. I spend about an hour getting to know my clients, and I ask a lot of questions to find out who the bride is as a woman and what she is looking for. Then, based on my long experience in the market, I pick out styles that I think would suit her. What I need to do is to understand how they feel and capture their emotions when they wear the dress. That's why I watch the bride very carefully during the appointment. I watch them closely to see if they are smiling, if they are excited, what parts of the dress they are touching, and I always ask them how they are feeling. If the dress doesn't fit the bride, for example, if a busty bride is trying on a dress that doesn't have much support in the chest part, I would never say, "No, it doesn't look good on you!" but I would gently suggest, "Why don't you try a dress with a little more supportive in the chest?" I am there to guide the bride in her dream dress. No matter how unflattering the dress is, I will never say anything harsh. I tell them softly. Very softly. (laughs) "Hmmm, maybe something like this would suit you better." Something like that!
Onishi: For TREAT members also building a relationship of trust with the bride is the most important thing. Like you, the first step is to listen to the bride's needs, and after she trusts us, we build a relationship when we can talk honestly.
.
American Wedding Situation in COVID-19
.
Sakakura: 2020 was the year of COVID-19. What were the major changes in the American wedding industry during the pandemic?
Sabatino: The bridal industry in the U.S. has been impacted pretty hard, just like many other industries. After the COVID-19 outbreak, everything closed down. I talked to many dress stores and designers during that time, and they told me that there are very few brides still interested in trying on dresses. For those that are, we worked with the stores to have them shipped to the brides home. Even then they rarely end up buying because they don't know when their wedding is. My clients who were planning to get married in 2020 have postponed their wedding to the late summer or fall of 2021 or all the way to 2022, and the whole industry is struggling. Of course, it's not just the bridal industry, but small business in any industry is really struggling. There are some brides who want to have a small wedding and then have a big party to celebrate their first anniversary due to the COVID-19, but the fact is that the number of infected people in the U.S. is increasing and regulations are getting more strict in some states, so there are many cases where people just postpone their wedding without having a small wedding. There's one problem in the industry right now... In the U.S., there are an overwhelming number of couples who get engaged or married during this time of year (Thanksgiving through New Year's). But most of the couples who get engaged this year can't book their wedding until 2022. This is because the most popular venues, planners, florists, and photographers are already booked by couples who couldn't get married this year, so they are actually double-booked. I am also overbooked with four weddings on June 12, 2021.
Miwa: Until 2022!? Most people in the U.S. are postponing their weddings... In Japan, there is an increasing demand for new wedding styles due to the COVID-19, such as intimate parties with two parts, separating family and guests, resort weddings in Okinawa and Karuizawa, wedding photography, etc., or wearing masks and face shields. Are there any new styles of such COVID-19 throughout the United States?
Sabatino: Most brides in the US don't want to do weddings with guests wearing masks. In some cases, wealthy families will bring in rapid testing companies and tested all the guests and vendors. Only the people who tested negative were allowed to attend. But these test services are very expensive. So only a some couples can afford it. (Laughs)
All: Oh my God! That's amazing!
.
Weddings in the U.S. in the Future
 .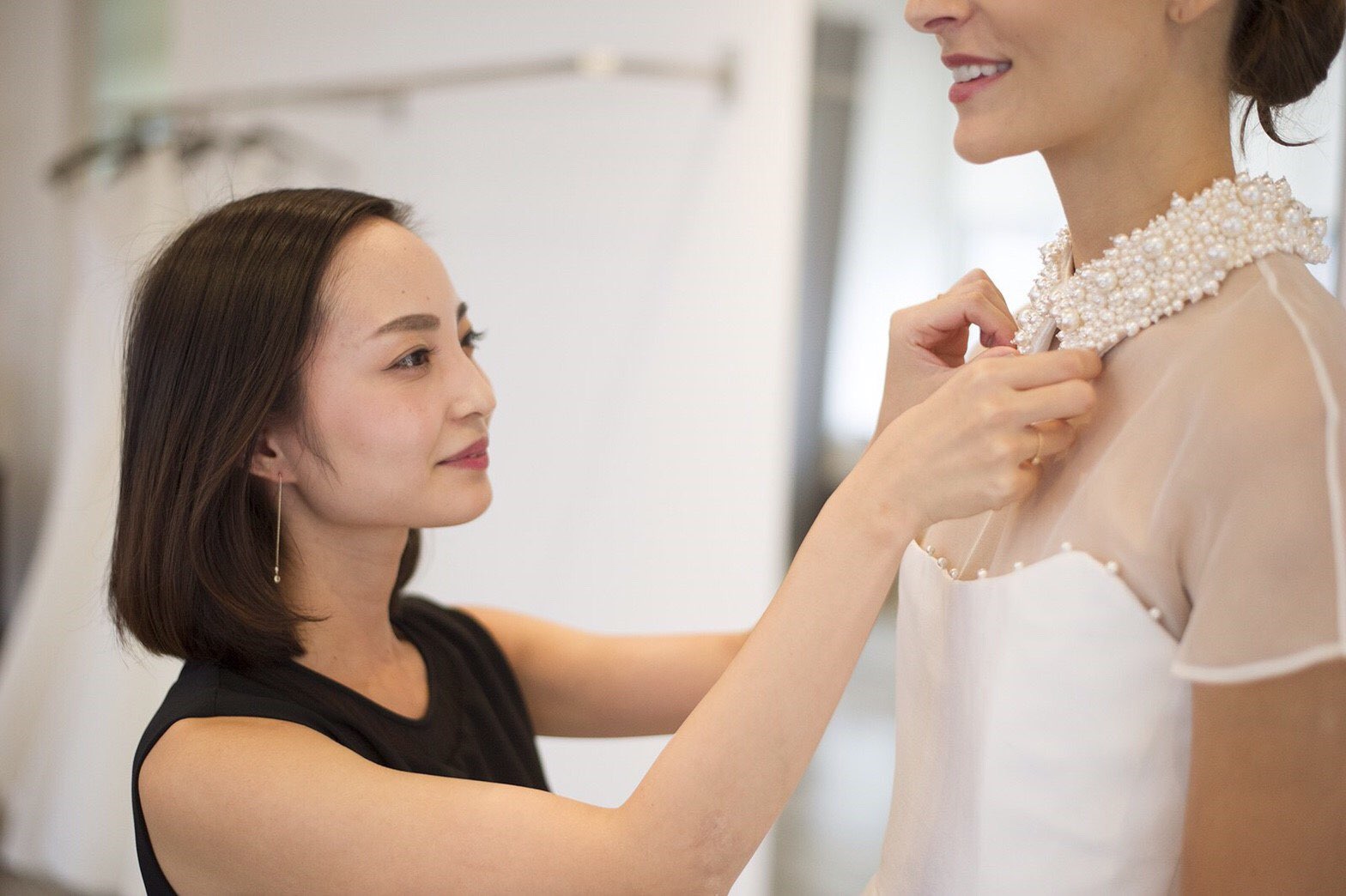 .
Onishi: How do you see the American wedding industry changing in the future?
Sabatino: Sadly, a lot of dress stores have closed in New York. For example, the bridal division at the Saks Fifth Avenue and Gabriella's, a dress store in Soho, have closed, and so many bridal professionals have lost their jobs. I think it's hard to know what will happen to the small dress stores. For example, brands such as Monique Lhuillier and Oscar de la Renta that have various categories such as ready-to-wear, accessories, and beauty, as well as bridal, are doing fine.
.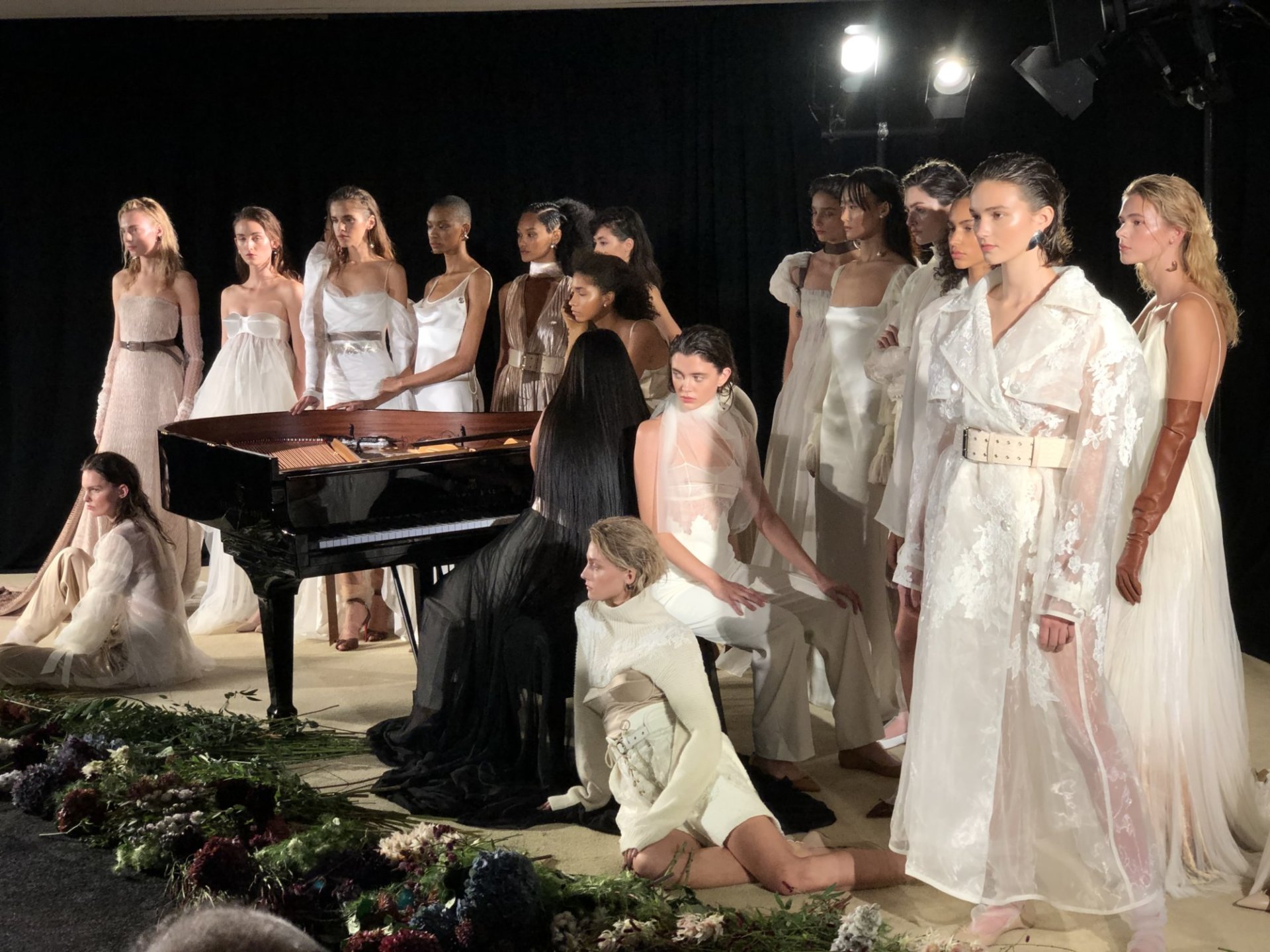 .
Sabatino: What I have found interesting lately are the dress stores and designers who offer brides to try on their dresses at home and use ZOOM and other systems for consultation and measurements. Those who have been able to make good use of this system have been very successful during COVID-19. We realized this past year that we can do everything from our homes, right? So, I think the way we purchase wedding dresses will also change someday. Of course, there are still many designers who are reluctant to handle wedding dresses virtually. I think it will take some time for the virtual sale of dresses to become widespread, but I think it's very efficient and interesting. For example, Danielle Frankel is one of the designers who have had success with this virtual fitting. The American wedding market has changed quite a bit in the last half century. Especially in the past 15 years, the size of weddings, the number of guests, and the grandness of weddings have continued to grow. However, when my parents got married in the 1970s, weddings in the U.S. were quite small, and I believe that COVID-19 will change our mind and make more couples think about what is important to them and shift to smaller weddings. On the other hand, when COVID-19 comes to an end, the wedding and event industry is going to explode, especially since everyone will be dying to have parties and events. (Laughs)
.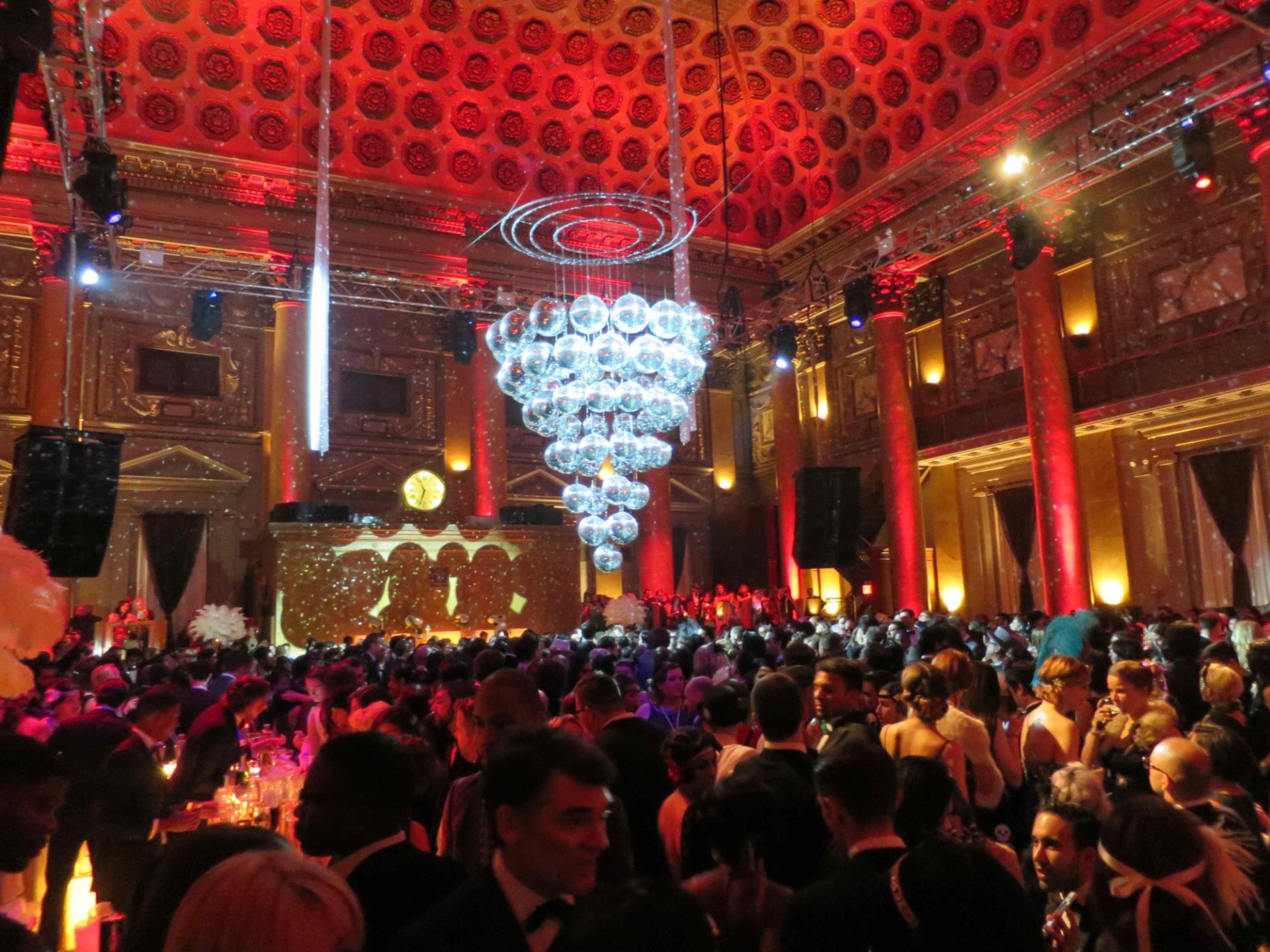 .
When you accept anxiety and suffering, it becomes an awareness and an opportunity
.
Sakakura: COVID-19 occurred all over the world, and at the first I could not fully digest the situation. Recently, I have finally been able to digest it, but has your sense of values changed?
Sabatino: I know exactly how you feel, Mariko (Sakakura). My values have really changed. Time used to fly very fast, but in the past year, time has slowed down and I've been able to spend more time with my children. Before that, I was rarely at home due to work, all the bridal industry events, parties, business dinners, business travel.... I really like the slower pace now. As for work, it was very hard for me mentally. My job is to meet the bride face to face and choose the dress with her, and it was very frustrating that I couldn't do that because of COVID-19. But recently, I realized that I can support the bride virtually without actually being there with her. And I see it as an opportunity to support even more brides because I can spend more time with them virtually. To be honest, 2020 was supposed to be my busiest and most successful year, and it was a huge shock when it all got cancelled. Post COVID-19, I may still have the option to prioritize my work, but if I want to change more, take a step forward, and grow, I believe that now is exactly the time.
Onishi: There are customers who are very nervous because of the COVID-19 and brides who feel they have to give up on the wedding itself. We try to make them feel as relieved and positive as possible when we serve them, but it would be great if you could give us some advice.
.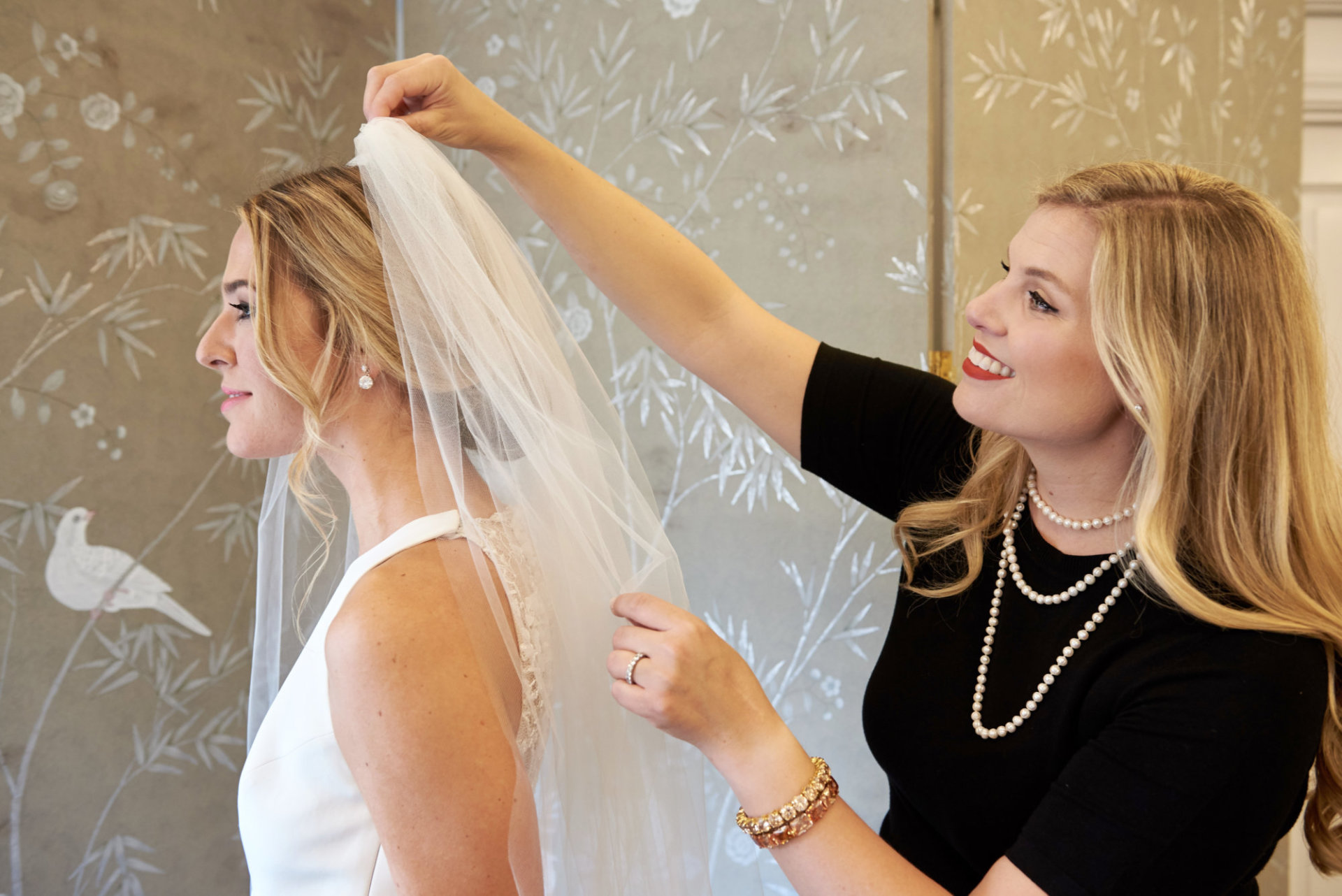 .
Sabatino: Of course! First, I empathize and say, "I know exactly what you're going through. It's a very hard situation, and there's nothing wrong with feeling pain and sadness." There are many brides in the U.S. who feel that they should not be upset or even embarrassed by still thinking about their wedding while we struggle with COVID-19. In the current situation, I think it's very hard for them to see the future, whether they can actually have a wedding or whether their family can attend in good health. I am always encouraging brides to accept their anxiety and to move forward. Some brides act like COVID-19 doesn't exist.... In some states, there are people who believe that COVID-19 doesn't exist and say, "I want my wedding now. I don't care about Corona! It doesn't matter. I don't care." If a bride is depressed and nervous about the current situation, I will be able to be there for her and sympathize with her and say, "I know this is a really tough time." But I can't say, "Don't worry, there is no such thing as COVID-19!"
.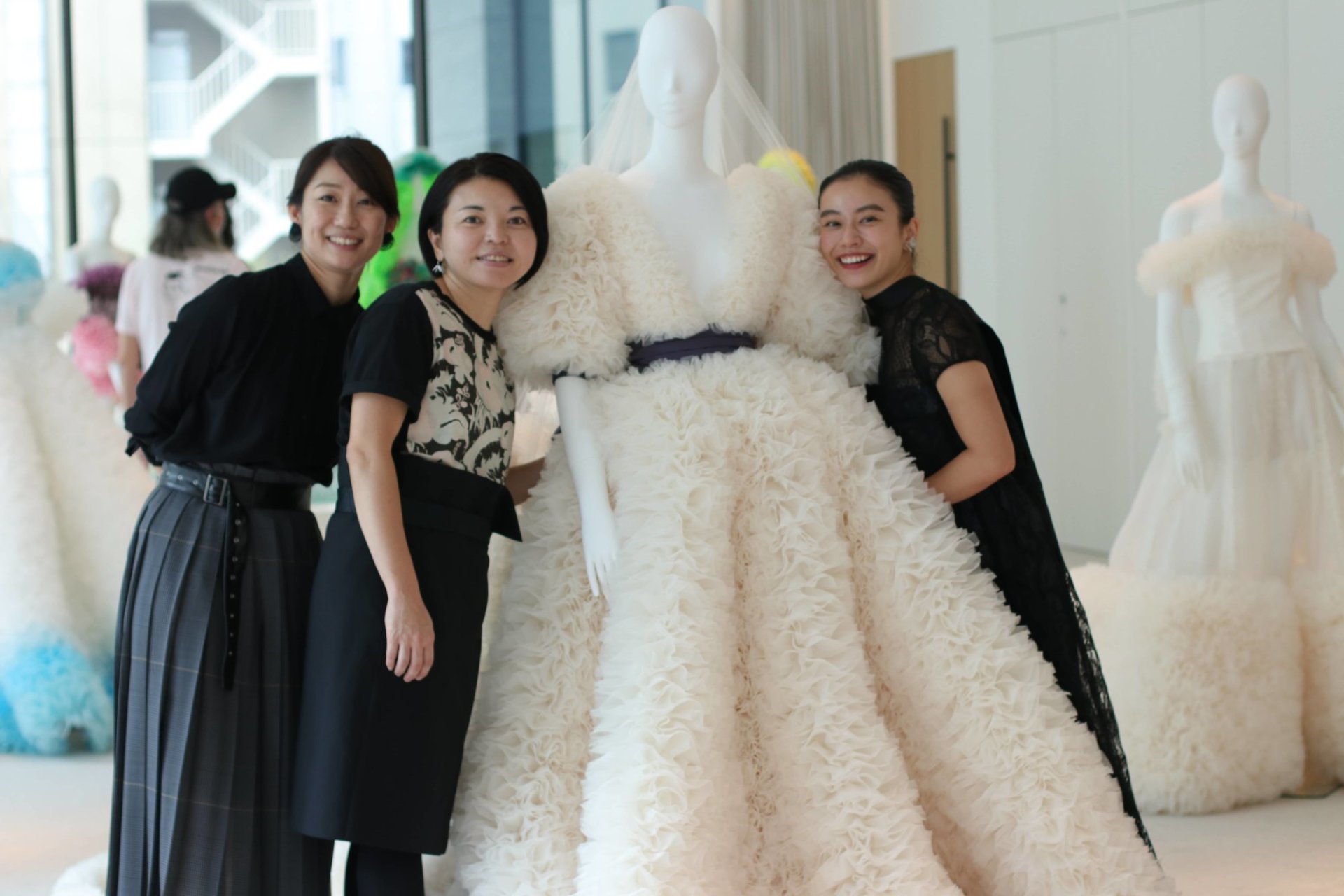 .
Iijima: I was very energized by talking with you, who are sincerely dealing with a variety of brides, and I felt that we should once again be close to our brides and offer various possibilities and support in a positive manner. Japanese brides were also facing very nervous feelings due to the COVIND-19. However, since autumn, they began to ask us, "What kind of wedding can we have now?" I feel that more and more brides are thinking positively about "COVID-19 Wedding" For example, demand for resort weddings is increasing. Okinawa, one of Japan's most popular resort areas, is very popular right now. At TREAT, we also support many couples for Okinawa weddings. This is my message to Japanese brides... I would like to recommend a resort wedding at Halekulani Okinawa. In Japan, resort weddings haven't been luxury before, but I believe that a luxurious resort wedding where you can wear a high-quality dress and be surrounded by the same high quality hospitality as a luxury hotel in Tokyo will become a new wedding style!
Sabatino: It sounds luxurious, like Palm Beach, Florida.
Iijima: That's right! As you told us, I feel that the keyword for weddings in the future will be "what/who are important to us." This is a new style of wedding that I would like to recommend to Japanese brides, as they can spend their private time with their really important guests and family in an open resort. We were so excited to talk with you today, I don't think I'll be able to sleep tonight! (All laughs)
.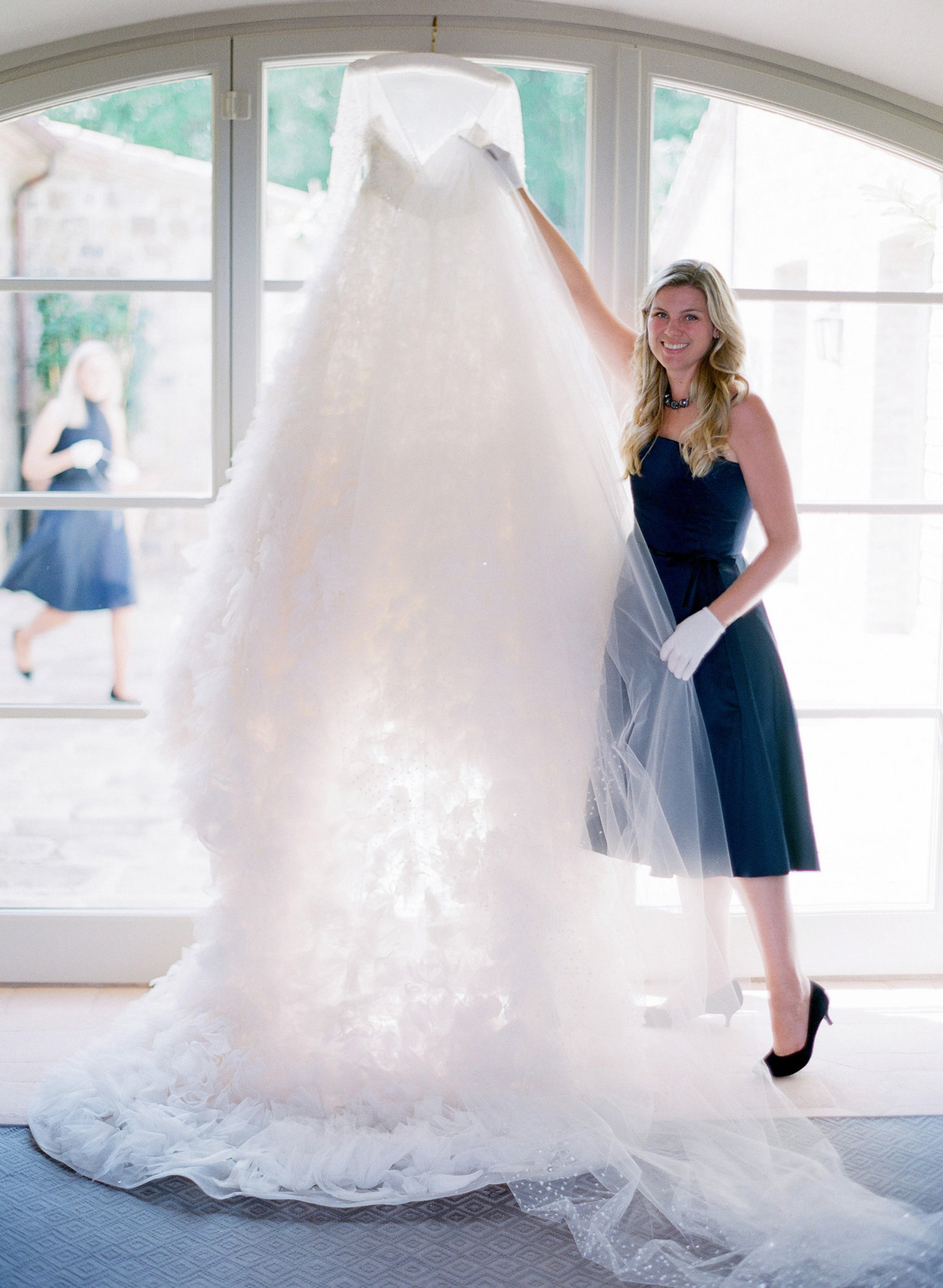 .
All: Last question! What is your secret to making your dreams come true?
Sabatino: My dream is exactly what I am doing now, so I will tell you about my vocation and the secret to a successful business. It's about being ethical, being honest, transparency and most importantly, caring deeply for others. In the bridal industry, it is very important to build a happy relationship with the bride and to understand each other. It's all about listening, always thinking about what you would want to know if you were the bride, and going above and beyond what is expected of you. In order to ensure that the brides are satisfied, I also carefully train my staff. I call our philosophy being "a need anticipator". For example, if couples have taken photos outdoors after the ceremony, we are able to say, "I'm sure the bride will be thirsty, so I'll need a bottle of water. I'll also bring a straw to keep her lips beautiful." I train our staff to be imaginative and considerate. For the bride, it's all new to her, but since we are professionals and have done so many weddings, we are able to often know what she needs before she does. That feels great!
All: You are so professional! We always imagine what it would be like if we were the bride every day, so it was a great honor to be able to talk with you and empathize with each other.
Sabatino: Even though the markets in Japan and the U.S. are different, TREAT members and I have the same mind and the same roots in facing our customers, so I really enjoyed talking with you all. I could feel that you are working hard every day for the brides in Japan. If there's anything I can do for you, please let me know, and I look forward to seeing you at the bridal market next fall after COVID-19! Oh, it would be nice to meet you all in Japan, too!
All: If you do, please come and visit us at the TREAT store!
---
The session took place on December 10, 2020.
It is translated by Julie Sabatino and Ayuka Matsumoto from the original article in Japanese.
---
.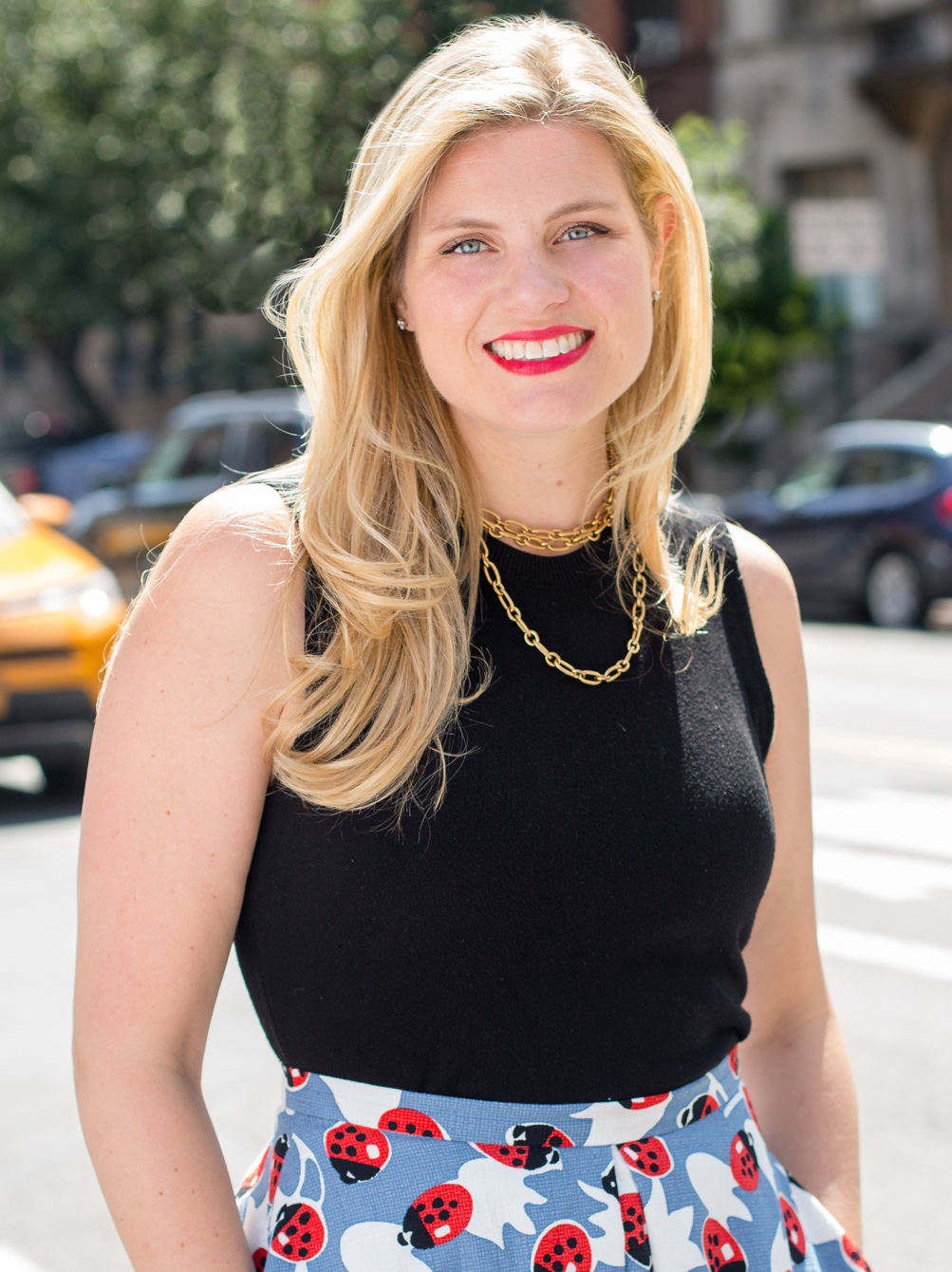 Julie Sabatino, Founder & Bridal Stylist
After working at Salomon Smith Barney, a major investment bank in the U.S., Julie attended The Fashion Institute of Technology in New York. After graduating with a passion for the bridal industry, she joined Amsale on Madison Avenue, where she has helped hundreds of brides, and in 2003, she founded The Stylish Bride. She serves as a bridal stylist to help brides in the U.S. and around the world to find their dream dress together.
Official Website: https://thestylishbride.com/Instagram: @thestylishbride
.
---
.
THE TREAT DRESSING
Based on the philosophy of "delivering a world that tickles women's hearts," we offer a wide range of seasonal dresses from around the world and continue to be a trendsetter without being bound by the common sense of the Japanese wedding industry.
Official Website:https://www.treatdressing.jp  
Instagram: @thetreatdressing
.
Crew of TREAT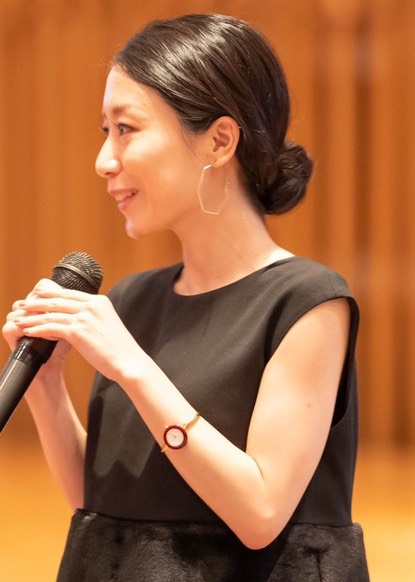 Mao Miwa | Tokyo Area Manager, TREAT Co.
Joined TREAT in 2011. She has experiences in training many staff members who have won individual awards from the stores she manages, and has represented all stores in winning the store MVP award. She has also been in-charge of cost reduction project and other projects that involve management aspects, too.
.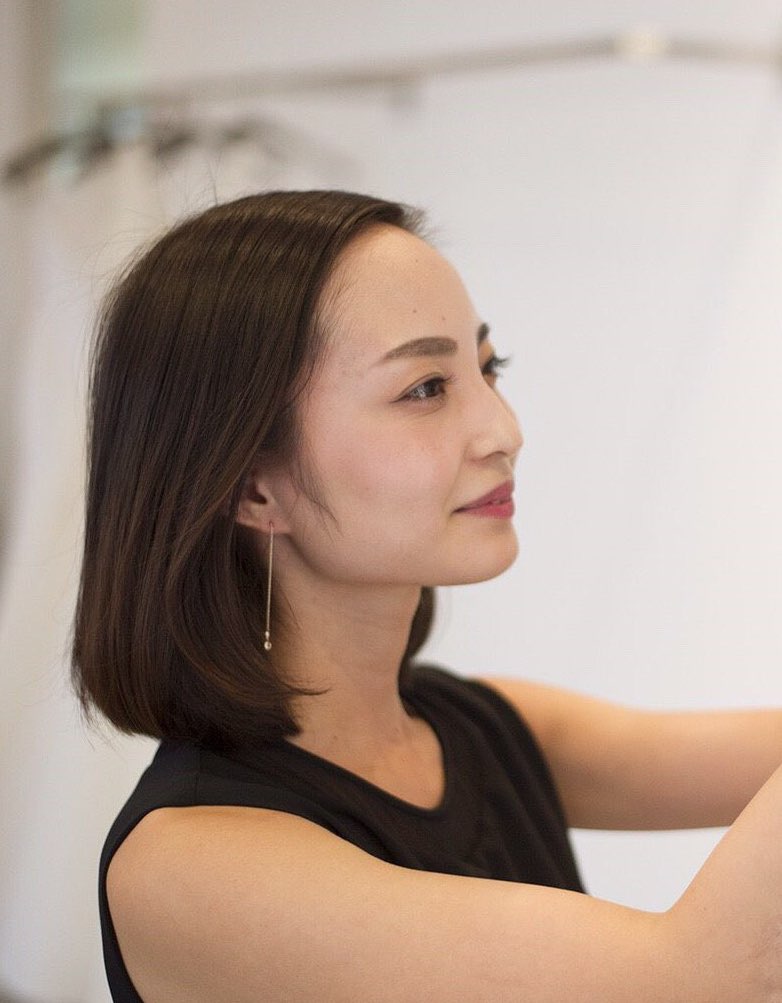 Miyu Ohnishi| Dress Coordinator, Kobe Area / Expert Course, TREAT Co.
Joined TREAT in 2012 as a part-time hire, and after three years as an assistant, she made her debut as a dress coordinator, winning the top spot in sales dress sales for two consecutive terms, and accompanying customers on dress purchases. She is one of TREAT's top dress coordinators.
.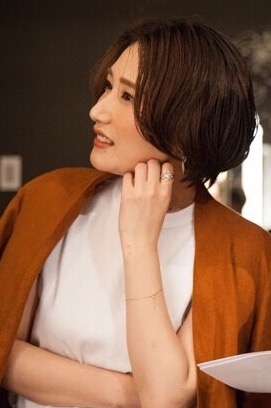 Mariko Sakakura| Manager, TREAT Nagoya Store, TREAT Co.
Joined TREAT in 2014. She won MVP as a dress coordinator two years continuously and accompanied her to New York for purchasing. Later, the store she manages won the store MVP. She builds a strong team that continues to achieve record high sales.
.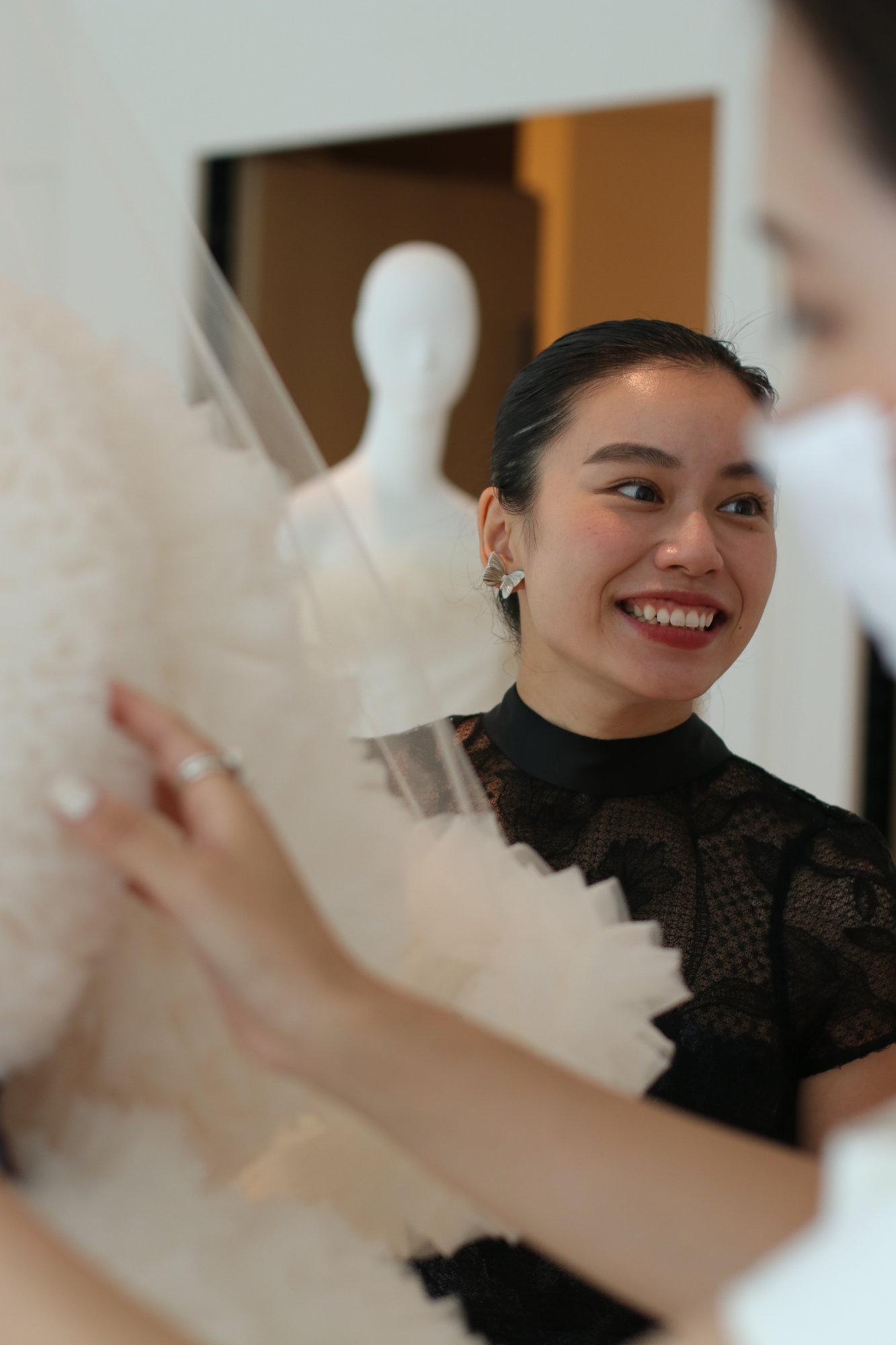 Tomoko Iijima | Press, TREAT Co.
Joined TREAT as a new graduate in 2015. After working as a dress coordinator, she was appointed to PR, where she continues to create TREAT's storytelling and inspiring worldview through the production of TREAT MAGAZINE and finding new brands.
.
FROM >>> NEW YORK
This is an extra small column by AYUKA from NY EDITION, who lives in New York and brings you various perspectives on "New York," "empowered women," "weddings," and more. This time we tell you about Julie Sabatino's iconic woman
"My icon is Marie Kondo!
Yes, Julie's dream woman is Marie Kondo, aka Konmari, Japan's world-renowned tidying charisma. She says that she has adopted Konmari's business model and methods for her own business. "My philosophy in business is to help people feel good about themselves through fashion," Julie said. "I think it's important to think about how you feel when you wear clothes, and how you look to the people around you. But many Americans today don't know about such things. For example, there are a lot of people who don't know how to iron, sew, or what to choose as well as whether or not their clothes fit. So, I have been thinking lately that teaching the younger generation the common sense that used to be the norm is what will make them happy. In fact, Ms. Konmari is teaching us Americans how to clean up in a way that is easy to understand and fun." We were speechless with amazement as we listened to this story, but Julie said, "Hahaha. But that's the point. The point of view of Konmari is that she carefully teaches common sense to Americans, which is not the norm for Japanese people. In fact, she is successful in doing so on a global scale, isn't she?"
Julie taught us that different countries have different common sense, and that this can be a hint for new business. Konmari is empowering Julie, an empowered woman. It's truly an empowered woman empowers woman!
.
---
Write & Edit by AYUKA MATSUMOTO